24/7 Hours Emergency Service​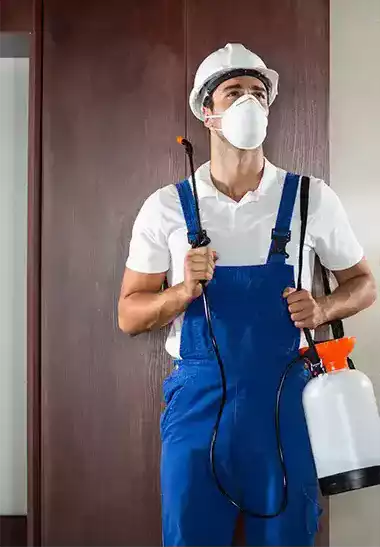 Professional
Mold Removal And Mold
Remediation Specialist
As a Mold Removal Specialist, we offer expert Mold Remediation Services to eliminate mold and restore a healthy living environment. Our Certified Mold Remediation Specialists use state-of-the-art equipment and industry best practices to effectively remove mold from your property, regardless of the size of the infestation.
We offer Water Damage Restoration services to help you mitigate the damage and prevent mold growth. Our team will quickly respond to your emergency and provide efficient water extraction, drying, and restoration services to minimize the impact of water damage.
Additionally, we deal in Lead Assessment and Remediation services to ensure your family's or occupants' safety. Additionally, our Environmental Testing and Inspections help identify potential environmental hazards such as mold and lead, and we provide tailored solutions to restore indoor air quality.
Trust our expertise for top-notch mold remediation services.
We cater to a wide range of services
Biotek Mold Solutions provides mold inspections in NYC…
Biotek Mold Solutions technicians are licensed and trained…
if not always, mold growth is a direct effect caused by water…
Water damages in NYC may emerge from multiple sources…
About Our Biotek
Mold Solutions
Biotek Mold Solutions. specializes in providing mold & indoor environmental health hazard inspection & testing services in New York City. We are providing mold contamination, indoor air quality, flood damage, fire damage and related environment consulting, testing, design, and remediation oversight services.
Mold Inspection
Specialists in Mold Inspections & Testing
Call us 24x7
+1 (212) 784-6490
Mold Removal
Our Experience team can Remove the mold professionally
Online Appointment
Why Do You Need Mold Remediation Services?
Mold growth in indoor environments can pose significant health risks, cause property damage, and negatively impact indoor air quality. Therefore, addressing mold issues promptly is essential. Consulting with a qualified Certified Mold Remediation Specialist is crucial to assess the situation thoroughly and develop a comprehensive plan to effectively remove the mold while also addressing the underlying moisture issue to prevent future mold growth.
Mold exposure can cause allergic reactions, respiratory issues, and mycotoxin toxicity. Symptoms include sneezing, coughing, runny nose, itchy eyes, skin rash, and throat irritation. Mold can worsen asthma symptoms, trigger asthma attacks, and cause breathing difficulties. Mycotoxins can cause headaches, dizziness, fatigue, nausea, vomiting, and even neurological or organ-related issues.
Mold spores and fragments can be inhaled, ingested, or come into contact with the skin, leading to a variety of symptoms. Susceptible individuals, especially those with respiratory conditions, should take precautions to avoid mold exposure and seek medical attention if experiencing symptoms.
Indoor Air Quality Issues
Mold can affect indoor air quality, leading to unpleasant odors and musty smells. Mold spores can become airborne and circulate in the indoor air, contributing to poor air quality and potential respiratory issues. This can be especially concerning in enclosed spaces where proper ventilation is lacking, as it can lead to prolonged exposure to mold spores and exacerbate health risks.
Mold can cause structural and property damage as it feeds on organic materials. This can result in discoloration, staining, and deterioration of surfaces, fabrics, and belongings. Mold can also produce volatile organic compounds (VOCs), which are gasses that can be released into the air and penetrate porous materials, resulting in persistent odors that are challenging to eliminate. Over time, untreated mold growth can lead to costly repairs and replacement of damaged materials, impacting the integrity and value of the property.
Consult With a Specialist Today!
Given the potential health risks, property damage, and indoor air quality issues associated with mold growth, it's crucial to trust the expertise of qualified Certified Mold Remediation Specialists. We have the knowledge, experience, and specialized equipment to effectively remove mold, address underlying moisture issues and restore the safety and integrity of your property. Hiring 
emergency Water Damage Restoration Services
 is key to mitigating risks and ensuring a healthy indoor environment.
The Voice of Our Customers
Frequently Asked Question
Make An Appointment Today!
Stay Informed with Our Latest Blog
Mold is multicellular fungi which you can find anywhere! Some of us
Read More